Since we had five children that were homeschooled—and very close in age—we had many a year when toddlers were part of our homeschool experience. Typically, toddlers are active, demanding, and have a short attention span.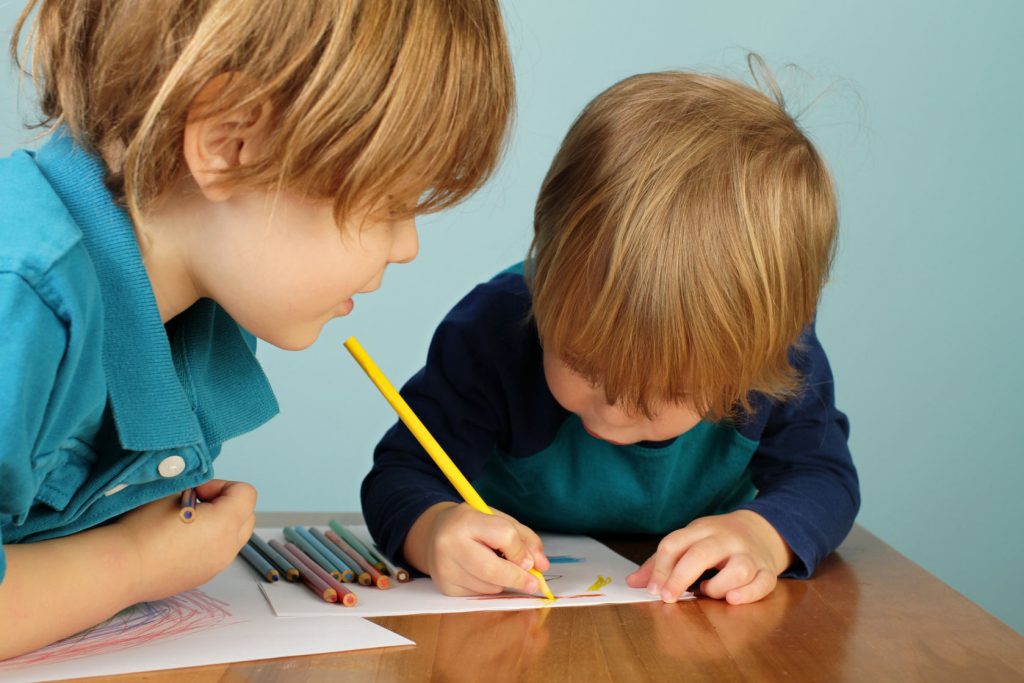 But many families have homeschooled older children while two, three, or four children play at Mom's feet. It can be done!
Here are some techniques that kept our family sane and on schedule while homeschooling with "under school-age" children present.
Reasonable expectations. Don't expect your toddler to leave you completely alone while you are schooling the older children. He needs to feel that Mom has time for him, too, and is not threatened by homeschooling.

Keep several plates spinning simultaneously. Switch off time with each of your children. Start with getting the younger ones interested in an activity near you or in a room nearby. Teach a lesson to the older children and assign seat work they can complete on their own. Continue to alternate as necessary.

"Not now, but soon." When your toddler interrupts during a teaching time, give him a specific time that you will be able to help or play with him; e.g., after this Math lesson. Every child has to learn patience, whether the family is homeschooling or not.

Keep them close and occupied. Establish a play area nearby: in a corner of the same room, or an adjacent room. If you don't have a separate area to set up for your toddler, have him choose several specific toys to bring to the area where you are schooling. He can play with these or sit on your lap while you teach.

Be prepared. Have everything you may need for the toddler during the schooling time. Keep diapers, wipes, potty chair, and snacks close at hand to minimize interruptions.

Ignore the phone. Since I like to stay in the school area until the older ones are finished with their morning work, I turned my phone on Do Not Disturb and had callers leave messages. It's tough to keep everyone on track if you get involved in a call.

Be like the big kids. My toddlers always liked to have their own "work" to do at a table or desk near the older ones. They love to color, use puzzles, look at books—any self-directed activity for a time.

Quiet, please. Teach the toddler to play quietly or to go in the next room to play. Believe it or not, they CAN learn to play quietly—not silently, but quietly. Also, teach them how to interrupt if they need you—their hand on your arm until you respond. Be sure to praise them for playing quietly.

Delegate. If you have two older children to teach, one of the older ones can take a break and play with your toddler. This will free Mom to concentrate on a lesson with the other child.

Have a written plan. Determine the day's assignments for your schooled child and have a checklist. He can eventually begin to work more independent of you if he knows what is expected of him.

Take advantage of nap time. Consider some schooling in the afternoon when the toddler is sleeping. Do subjects in the morning that require more concentration. Perhaps an activity late morning that the toddler can enjoy with everyone; e.g. cooking. Then, during the toddler's afternoon nap time, work on individual reading assignments or other subjects.
In dealing with toddlers and preschoolers, every age and every stage is new. What works at one stage may not necessarily work at the next stage. The key is variety as well as having some standards for your toddler that help to make the homeschooling process workable. With a little advance planning, we can keep both our schedule and sanity while having a renewed enthusiasm in schooling our children.
Question: What is one technique that helps you manage a toddler while homeschooling? Share your answer in the comments below.