No man feels equipped when he first becomes a dad. The sense of responsibility is almost overwhelming the first time a dad holds his first born child. Hopefully, he accepts that responsibility with a no-turning-back resolve.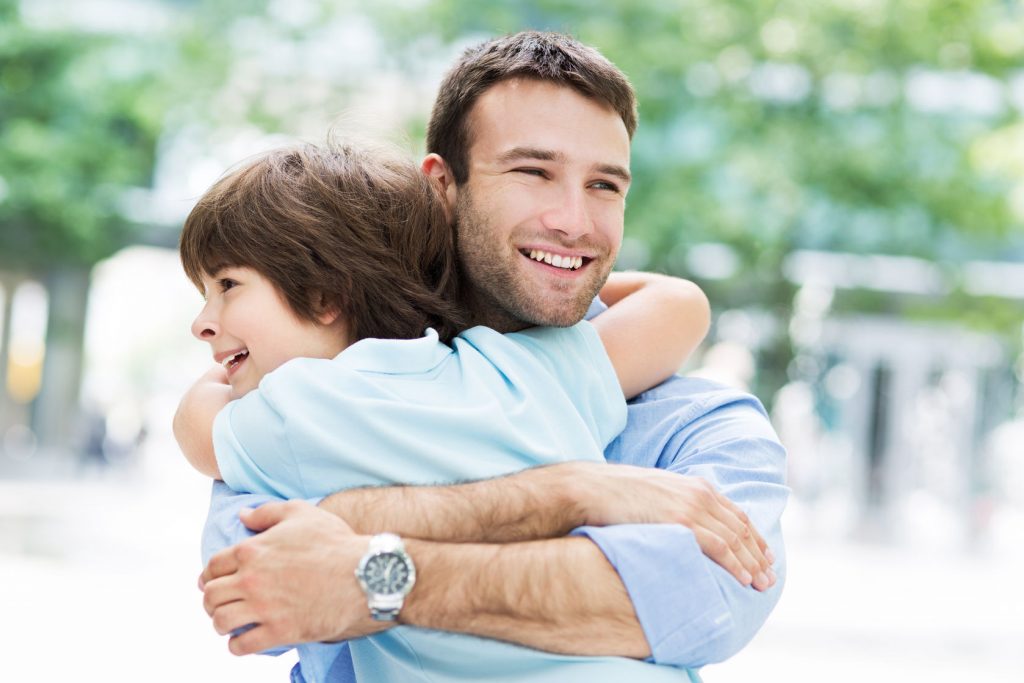 But, the success of a father depends on how actively he seeks to learn. For me, the best overview of my responsibility as a dad was found in a 2,000 year-old letter to some folks in ancient Turkey.
Fathers, do not provoke your children to anger, but bring them up in the discipline and instruction of the Lord." Ephesians 6:4
I love this. A succinct summation of what not to do and what to do—don't cause a deep-seated resentment or bitterness through long-term unfair treatment; instead, raise them with tender, loving care.
This reflects the God-given responsibility of a father in a nutshell. One can't overestimate the importance of such an Ephesians 6:4 father.
Beginning with this verse, let me outline six attributes of such a father, using the acronym, F.A.T.H.E.R.
F ather
Although a bit formal, I like the connotation behind the title "father." Dad or Daddy is nice, and it has its place. But, "father" reminds us who is in charge.
You are not required to be your child's buddy. You are different. That doesn't mean you are cold and aloof. Just that you don't compromise your relationship by putting it on the level of a peer to your child. Your child will have many "buddies"; they only have one father.
But, we need to conduct ourselves, dads, in a manner worthy of that title as father. That's where other attributes come in. And for those, I draw from another ancient letter: the biblical passage in 1 Thessalonians 2:7-12.
The author, Paul, uses the analogy of both a mother and a father to describe his role of a spiritual father to those he's mentored.
A ffectionate
But we were gentle among you, like a nursing mother taking care of her own children. So, being affectionately desirous of you…" 1 Ths. 2:7-8a
Dads, though we are to be strong leaders—and firm at times—we also have to be affectionate. That can be demonstrated in a couple of ways:
Physically: hugs, kisses, rough-housing, etc. Don't just say you love them; show them with physical signs of affection.
Your attention. Pay attention to your kids when they talk. Ask questions. Take a genuine interest in what they are interested in.
T ransparent
…we were ready to share with you not only the gospel of God but also our own selves, because you had become very dear to us." 1 Ths. 2:8b
More than just giving instructions, we need to share our very lives. Your kids need to see you in action.
H. Jackson Brown, Jr., author of Life's Little Instruction Book, said, "My dad used to say: 'You can tell a lot about a man by the way he handles these three things: a rainy holiday, lost luggage, and tangled Christmas tree lights.'"
Children see us as we really are.
Include them in everyday life situations. The best way to teach them is to give them a good example. But, also to admit it when you blow it. They know it anyway.
It's not so important that you be perfect. You're not. But, it is important to expose your struggles in real life and teach them how to deal with such things.
H ardworking
For you remember, brothers, our labor and toil: we worked night and day, that we might not be a burden to any of you…" 1 Ths. 2:9
I've written on the importance of working hard, being diligent.
It's important for our children to see the value of being responsible and working hard for the things that matter. And not just in the things we enjoy doing.
But also demonstrate a good work-life balance. Don't make the mistake of working so hard to provide good things for them or accomplishing great things for others that you neglect your children.
E ncouraging
For you know how, like a father with his children, we exhorted each one of you and encouraged you…" 1 Ths. 2:11-12a
A proud father should be a child's chief cheerleader.
A good motivator is one who works at catching others doing something right and praising them for it. "Keep it up! You can do it!" Constantly affirming them and exhorting them rather than cutting them down.
Be positive, dads. Encourage your child every chance you can.
R eliable
…while we proclaimed to you the gospel of God. You are witnesses, and God also, how holy and righteous and blameless was our conduct toward you believers." 1 Ths. 2:9b-10
Notice, "…proclaimed…conduct." His behavior lined up with what he said. He was authentic. He could be trusted.
A leader of any kind has to be trusted. He can't say one thing and do another. That completely destroys his credibility.
Do your kids believe you are reliable? That you will follow through with what you say or promise?
The reason I switched these last two around was more than just to make an acronym. It wraps up where we began with this list of attributes: respect.
Respect comes by being trustworthy, authentic, reliable. That applies to us dads.
Be Their Loving Leader
Dads—your kids need a leader. Not a cold, detached leader—a loving leader.
If you work hard at cultivating these attributes, you will earn your kid's respect and influence them in a great way. And you can proudly wear the titles of "Father and Dad."
Question: Dads, what attributes have you worked hard at to be the loving leader in your home? Share your answer in the comments below.