My dad used to say, "Do as I say, not as I do." I knew what he meant. He knew his shortcomings and didn't want me to follow in those footsteps of his. He wanted better for me.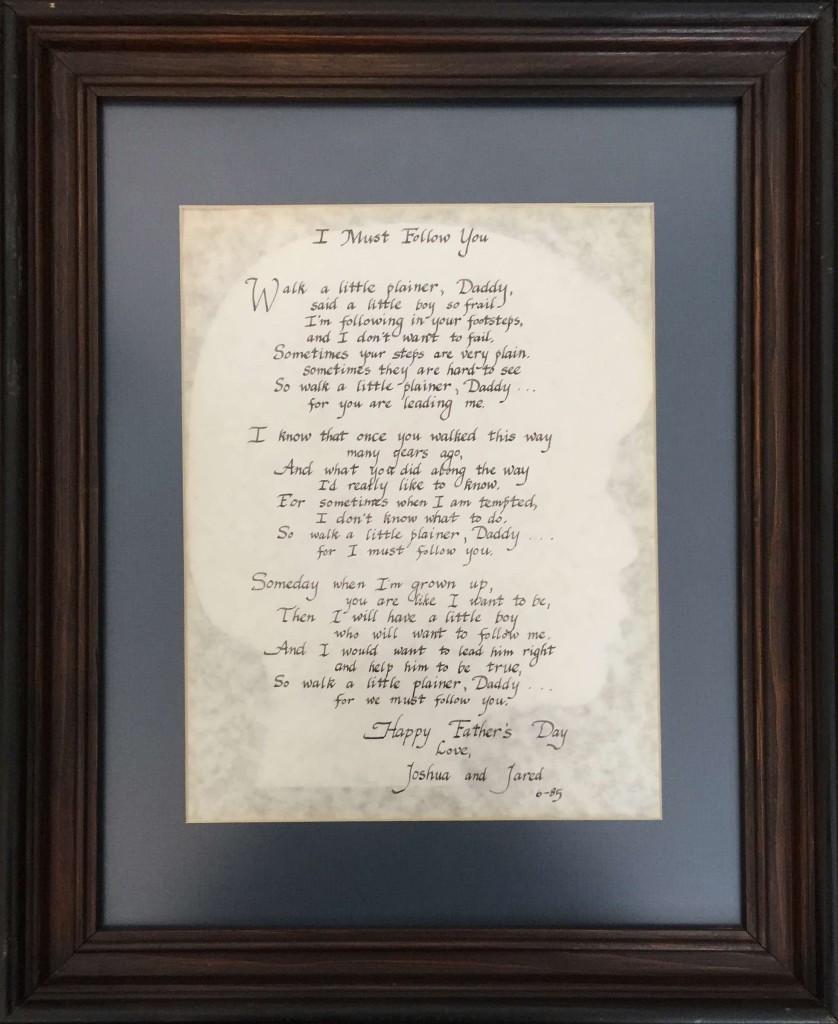 Yet the reality is that in parenting, more is caught than taught. Both the good and the bad. Queue Harry Chapin's, "Cats In The Cradle."
That's why it's vital that you give your child a clear example to follow.
On Father's Day, thirty years ago, my wife crafted a Father's Day gift for me from my two young sons. She calligraphed a poem she'd found on the power of a father's example—you can read it in the photo above. It has remained by my desk ever since.
When training anyone to do anything, the best model is, "I hear. I see. I do." You begin with verbal instruction of what the student should do. You demonstrate the correct way to do it as he watches. You let them do it as you watch and coach.
The most instructive part of this process is watching someone else. It's why most of us would prefer to watch an instructional video on YouTube instead of listening to a podcast or reading instructions.
Child training begins with verbal instruction. Yet the part of your training that really sticks with them is in what they see you do. And not just when you are intentionally giving them a demonstration. Little eyes see everything.
The greatest impact you'll have on your child is through your example. He is going to follow you.
To give the best example for your child to follow, consider the following:
You have to go first. You cannot teach what you do not know. You cannot lead where you will not go. You're not perfect and never will be, yet it's foolish to expect your child to simply overlook your poor example because you're unwilling to address it. Find a mentor, a mastermind group, whatever it takes to improve your own behavior. Even your example of working on better is a great example to follow! Go first.

Let your child be with you. Seize every opportunity to let your child shadow you, even in the most mundane, every day things. The important life skills are hard to reduce to a curriculum. They are best learned by simply observing in real life settings. Even Jesus—who has more followers than anyone in history—when selecting His inner circle of twelve, appointed them to "be with Him." (Mark 3:14)

Start with simple examples. Always use good manners. Clean up after yourself. Fasten your seatbelt. Put your napkin in your lap.

Watch your mouth. Choose your words wisely and the tone in which you speak. If certain words are inappropriate for your child, then they should be inappropriate for you. If you don't want your child yelling to make a point, don't show them how to do that.

Consider your habits. My dad smoked cigarettes all his life yet strongly urged me to never start, always telling me how bad a habit it was. I understood yet smoked from age 14 to 21. Choose good habits. Lose bad ones.

Demonstrate good character. Life has a way of providing great opportunities to reveal your character. A cashier undercharges you—do you point out the error and pay more, or just keep quiet? The wind blows your car door into the car next to you—do you leave a note or look to see if anyone noticed and move on? Your child is taking notes and your example will either underscore or override your verbal instruction.
"Sometimes your steps are very plain,
Sometimes they are hard to see
So walk a little plainer, Daddy…
For you are leading me."
Whether you are Mom or Dad, focus more on the gift of a clear example that you can give your child from now on.
Question: What has helped you provide a better example for your child? Share your answer in the comments below.