Thank you! No, I mean it…thank you!
You're not even sure what I'm thanking you for—but you'll have to admit the words sound good!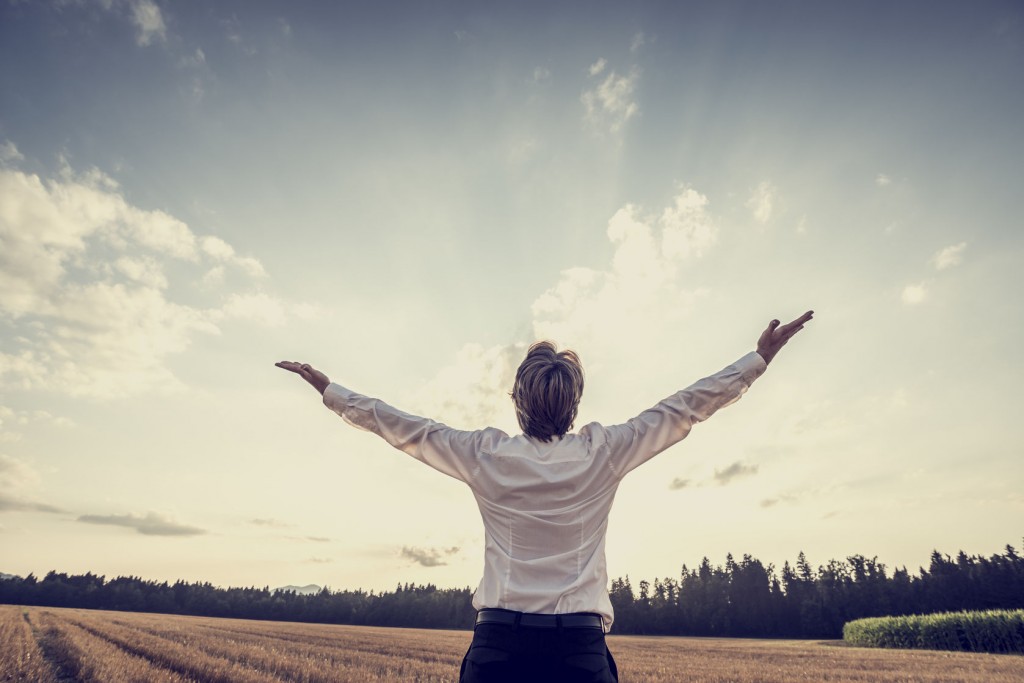 We've got the Thanksgiving holiday coming so this is a good time to talk about the power of a thankful attitude and its expression.
Thankfulness not only has great impact on a person being thanked, but on the person giving it. Living with a thankful attitude not only makes you stand out from the majority, it positions you for even more blessing.
A Rare Commodity
The Gospel of Luke records a story of ten desperate men—all terminally ill with leprosy. They were essentially walking dead men.
As they saw Jesus in the distance, they shouted to Him, asking for His help. He told them to go get examined by the priests—the requirement to be accepted back into the community out of quarantine once well.
On the way, they were supernaturally healed. It's hard to imagine what they must have felt in that moment. All were excited. All got their lives back. All could now rejoin their families. Their excitement had to be off the chart.
In the midst of all the celebration, one stopped and ran back to thank Jesus.
This is the most intriguing part of the story to me. Everybody knows it's just good manners to say "thank you", especially for some over-the-top kind of gift or service. This should have been a no-brainer.
But only one out of the ten did so. That tells me probably 90% of us need to work on our thankfulness.
You could say, "Come on—give 'em a break! I'm sure they were thankful—they just got caught up in the excitement!"
I'm not so sure. Thankfulness doesn't really do any good unless it's expressed.
Thankfulness—gratitude—is an attitude, a choice. That's why it's so valuable and so appreciated.
A Voluntary Heartfelt Expression of Gratitude
Think of your last meal at a restaurant. You knew when you ordered what the cost was and you obviously had no problem paying at the end. But you probably paid more than the cost—you gave a tip, a gratuity. The gratuity wasn't included on the bill—but you gave it anyway.
Gratuity comes from Latin word meaning to be grateful. A tip is an expression of your thankfulness, your appreciation for the service. It is not payment. That's why it's so valuable—it's voluntary; it's exceptional; it's above and beyond what's expected.
All ten lepers got healed. Only one said thank you. But nobody lost their healing. It wasn't about payment.
That's why the one's "thank you" was appreciated so much and made him stand out from the rest. It's like going to a friend's home for dinner and taking flowers. It's not necessary—you and other guests all get fed the same. But the hostess sure appreciates it and you'll probably get invited back sooner even if others might not!
We often think of a tip as being a measure of the service given. I think it's also a reflection of the giver's heart.
Thankfulness is a choice. It can be learned. It needs to be learned because it's obviously not automatic. Again, 90% of us probably need some work and the other 10% need to keep up the good work! And we need to teach our kids by example.
How To Develop Thankfulness
Habits are formed by doing things repeatedly and regularly over time. It starts with little things. Remember, probably 90% of us need to work at this and all of us can get even better.
Thank everyone for simple acts of service or kindness. The cashier; the UPS delivery person; the bank teller; the drive-through window attendant.

Always thank whoever prepares your meal. Especially your wife or mom! Don't assume they know you appreciate it. Don't take it for granted.

Be a big tipper. Always round the tip up. You can afford to be generous.

When overwhelmed, list ten things to be thankful for.

Send at least one thank-you note each week—handwritten.

Begin each day with a prayer of thanks for yesterday and be specific.
Living with a thankful attitude not only makes you stand out from the rest, it positions you for greater blessing. Make thankfulness your habit. Make it part of your reputation. Don't leave it to a once a year holiday.
By the way—I'm thankful for you! Happy Thanksgiving to you and your whole family.
Question: How do you keep a thankful heart year round? Share your answer in the comments below.